« All Posts by this Blogger
Skating Through Midterms
I'm probably not the first (nor the last) to say that college is hard, capital H-A-R-D. In a ten-week term, courses go by quickly and assignments can start piling up. While I sometimes find myself falling into the trap of feeling guilty when I'm not catching up on work or reading ahead for my classes, Dartmouth has taught me that it is just as important to take a breather, go outside, and enjoy some quality time with friends.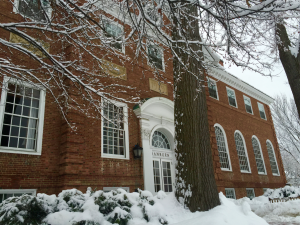 Last weekend was arguably one of my busiest weekends at Dartmouth. In addition to two group projects, an essay, and a midterm looming in the week ahead, I also had a few internship applications to finish and submit, and I needed to catch up on research I was conducting with one of my professors. I was all set to plow through work over the weekend… until Friday night rolled around. As I climbed into bed, I leaned over to glance at my phone, where a text from one of my friends read, "Let's go skiing. Pick you up at 9 am!"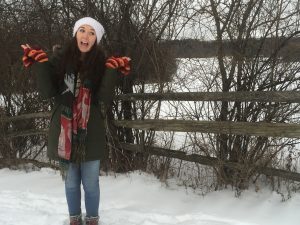 Well, looks like I'm not going to be as productive as I thought. To be completely honest, I almost canceled on my friend. I even began to write a text explaining why I couldn't spend the morning at the Skiway, but I stopped myself. How much damage could three hours at the Skiway actually do to my productivity, anyway? As it turns out, going skiing Saturday morning was just the boost I needed to power through my assignments and applications that day. Sure, I probably could have benefitted from a few extra hours of editing or additional time to complete all the readings for my Social Entrepreneurship class, but I figured that Sunday---which I had blocked off for an entire day of homework---would allow me to finish everything that I needed to.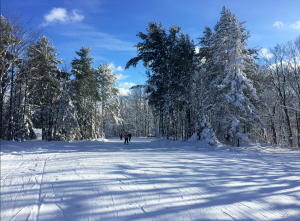 You might already know where this story is going, because once Sunday rolled around, the blue skies, balmy weather (40 degrees!!!), and still-frozen ice made it nearly impossible to say no to an ice-skating study break. As it turned out, the Living Learning Communities were having their annual Pond Party, complete with ice-skating, sledding, and roasting marshmallows over a bonfire, so all I had to do was walk five minutes from my dorm to Occom Pond for a wonderful afternoon of winter fun.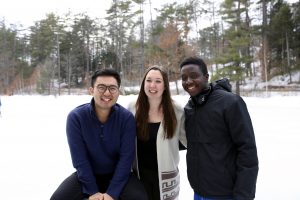 Needless to say, my weekend was packed! But, I somehow managed to get everything done while still having an enjoyable and memorable weekend of skiing, skating, and eating s'mores by the frozen pond. It's easy to sometimes feel overwhelmed by the seemingly never-ending stream of work being thrown at me each week, but I am grateful that I get to live in and study in this winter wonderland.