« All Posts by this Blogger
Coldness and Boldness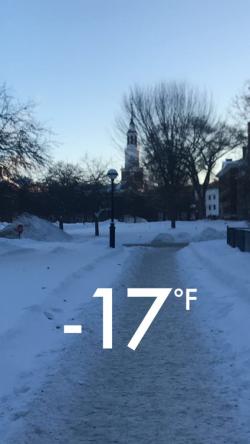 I remember the brisk, final days of winter term; late November winds blew across campus and every student scrambled to cut through every warm building to avoid the (barely) freezing temperatures, including myself. But now I'm here laughing, wondering what had ever gotten to me, all because I just climbed a mountain in nothing but a fleece and snow pants in the middle of January. At negative ten degrees. 
I'm going to make a bold claim and say that Dartmouth is perhaps the best place on earth to become acclimated to the cold, not only because you're quickly plunged into frigid winter-term temperatures, but also because there are so many things to do outside. For instance, in my case, climbing a mountain. Even as an avid outdoorsman coming into Dartmouth, I had never fathomed summiting a four-thousand-footer on the second coldest day of the year, but I decided to take that next step and try something new, even thought I was solidly terrified. So I grabbed every jacket I owned and donned at least four layers before I took the morning walk to Robo basement, checking the temperature on Snapchat and quickly receiving a pleasant surprise. After an hour drive and an uneasy introduction to snowshoeing, the first ten minutes of my trek were absolutely freezing in spite of my marshmallow-ish appearance. I couldn't believe that I'd ever be able to make it to the top without my fingers falling off, yet it only took me another ten minutes before I took off a layer. And then the next came off in another five. Before I knew it, I was three-thousand feet up in a paper-thin sweatshirt on the brink of sweating, and the thermometers still read sub-zero temperatures. Though we did eventually have to bundle up again as we advanced above treeline, as the winds were kicking in and my eyebrows were starting to freeze, I was still never cold for a minute, and that feeling persisted for the rest of the way down.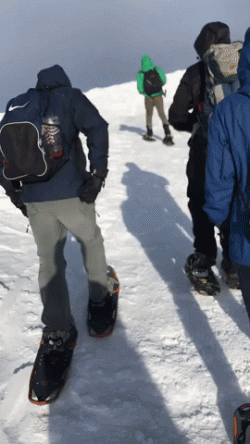 The next week was the coldest that I had experienced in years, and I swear that I must have gone crazy when I took my jacket off that one day and decided to make the long trek back to the river cluster in nothing but a t-shirt. If that experience taught me anything, it was that adjusting to the cold comes quickly, and that the best way to adapt to new conditions is to jump in and push your limits. After all, that's what college is all about... trying new things. So if I can give any advice to an incoming student, it's to think of the cold as another experience to give a shot. You never know, you might end up having a lot of fun.