« All Posts by this Blogger
What happened after I hit "submit"
Last I left you, I was discussing my college checklist and how I ended up applying to Dartmouth on a whim. (If you haven't already, read this blog post before continuing). Shortly after submitting my application, I was contacted by an alum for an interview. Dartmouth tries to interview as many applicants as possible. Pro tip: If you apply to Dartmouth and are offered an interview, accept the offer! It's not only a great way for the Dartmouth Admissions Office to get to know more about you, but for you to learn more about Dartmouth. I met my interviewer on a cold January night at the Starbucks across from my high school. To my surprise, the interviewer had attended my high school and graduated just six years before me. It was especially nice talking to her because we came from similar backgrounds and she was very candid with me about her Dartmouth experience. After the interview, I felt even more confident that Dartmouth would be a good fit for me.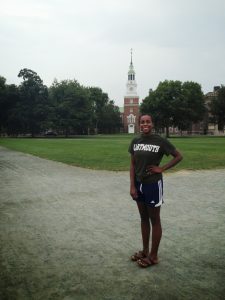 Me in on the Green in front of Baker Tower right before heading on my First Year Outdoor Orientation Trip



Fast forward to the All-Ivy release date in late March. It was a Friday and Dartmouth decisions were being released at 3 pm. School finished at 3:30 and I had intended to drive home to open my decision but that did not happen. My impatience got the best of my and I snuck away to a corner where I could see my fate in private. I was ecstatic when I saw my letter and immediately shared the news with my family and closest friends. Once I arrived home, I sat down with my parents to create a travel schedule for all of the Admitted Students Days for the schools I'd been accepted to. That year, Dartmouth hosted three Admitted Students Days, which they call Dimensions of Dartmouth (Dimensions, for short). I opted to attend the second one because it aligned with my spring break. My dad and I flew to the Manchester, NH and rented a car to drive the remaining hour to campus. When we arrived on campus it was snowing. My dad asked me, "Are you sure you can handle this weather?" Honestly, the mid-April snow was not pleasant, but I tried not to let it factor into my calculations.  During Dimensions, I visited a class called "Women and Gender in the African Diaspora," toured various open houses and stayed with a very kind sophomore who introduced me to her friends, brought me to pub trivia at the Salt Hill Pub, and bought me chicken wings at Late-Night at Collis (one of our dining establishments).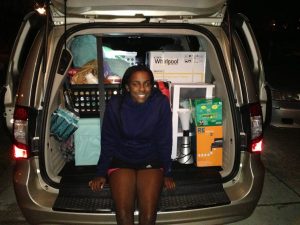 Me and a car full of my belongings the night before driving up to Dartmouth to begin my four year adventure!



After Dimensions, I felt even more sure that Dartmouth was the place for me. Slowly, I realized that being in a city for college may not be the best fit for me. I noticed when visiting schools in major cities that there tended to be less of a campus culture and community because people were off doing their own thing in the city or hanging out at other schools. Plus, I was willing to delay my dreams of easily accessible museums, galleries and public transportation to my post college years. At Dartmouth, I didn't find the remoteness as inhibiting as I originally imagined. Students seemed content and occupied on campus and many told me that they took advantage of all of the opportunities to explore nature.Despite my increasing love for the school, I was not sure if Dartmouth was affordable for my family. My original financial aid award did not provide as much as I had originally anticipated, but my family was able to work with the Financial Aid office to make it doable. With the financial hurdle conquered, I accepted my place in the Class of 2018 on April 30, 2014, just one day shy of the May 1st deadline.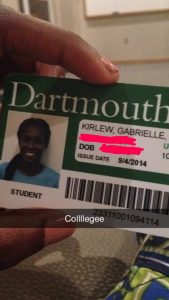 A saved snapchat from one of my first days of college



When people ask me today the main reasons why I chose Dartmouth, I list the liberal arts curriculum, the quality of the education, the campus community, and affordability. As I approach the four year anniversary of my decision, I still think that Dartmouth is a great fit for me and am so sad to be leaving the wonderful life I've built here when I graduate in June.