« All Posts by this Blogger
Welcome Back to Dartmouth/The North Pole
Let's make one thing clear: I'm not a fan of the cold. Not because I do not enjoy being cold (which I do not), but I quite literally am not built for it -- I was born in the Dominican Republic where the average temperature is about 80 degrees Fahrenheit. Luckily, I've ben living in New Jersey for the past 13 years of my life and am fairly adjusted to the cold.  The day I got back to campus, January 2nd,  it was a toasty -10 degrees Fahrenheit. But to be quite honest, I never thought about how cold it was because I was so excited to meet up with all of my friends and hear how their winterim went. My friend Daniela met up with me outside my dorm to help me take my luggage up the stairs. After bringing my luggage upstairs, we started to unpack it right away and organize my dorm because I want to be better organized this term. We played music and had little dance breaks and laughed about how much clothing I have. Tip: make sure you buy a good winter coat, it'll keep you nice and insulated from the cold and helps you forget all about it.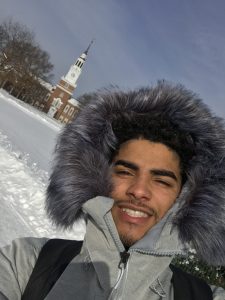 I toured around campus, visiting people that I hadn't seen since the term ended and started to feel "right" -- like I was home again. I got reminded why I chose Dartmouth to be my home -- the people. The Darmtouth students, faculty, staff, and the Hanover community -- is what make us so "special" because you won't find people who are so happy to be in -20 degree weather anywhere else in the world. Yes, it does get a bit cold here but you have people all around to "warm you up." A positive thing bout having so much snow is that it creates prime sledding conditions. You can grab a group of friends, get some sleds, and go sledding on the golf course (on my to do list for this term)
I hope that throughout these posts you get to feel a little bit of the excitement, honor, and happiness that I feel getting to call myself a member of the Big Green community. Like Dean Coffin said to me when I passed by his office: "Welcome back!"