« All Posts by this Blogger
Two Weeks in Southeast Asia
As some of you may know, Dartmouth has an especially long six week winter break that we call "winterim". Most years I use the break as an opportunity to return home and binge watch several series on Netflix. But since this is my last winterim, I really wanted to make the most of it. Last February, one of my friends and I made a pact to go on a trip this winterim and began saving money. We ultimately chose to go to Thailand and Cambodia for our adventure!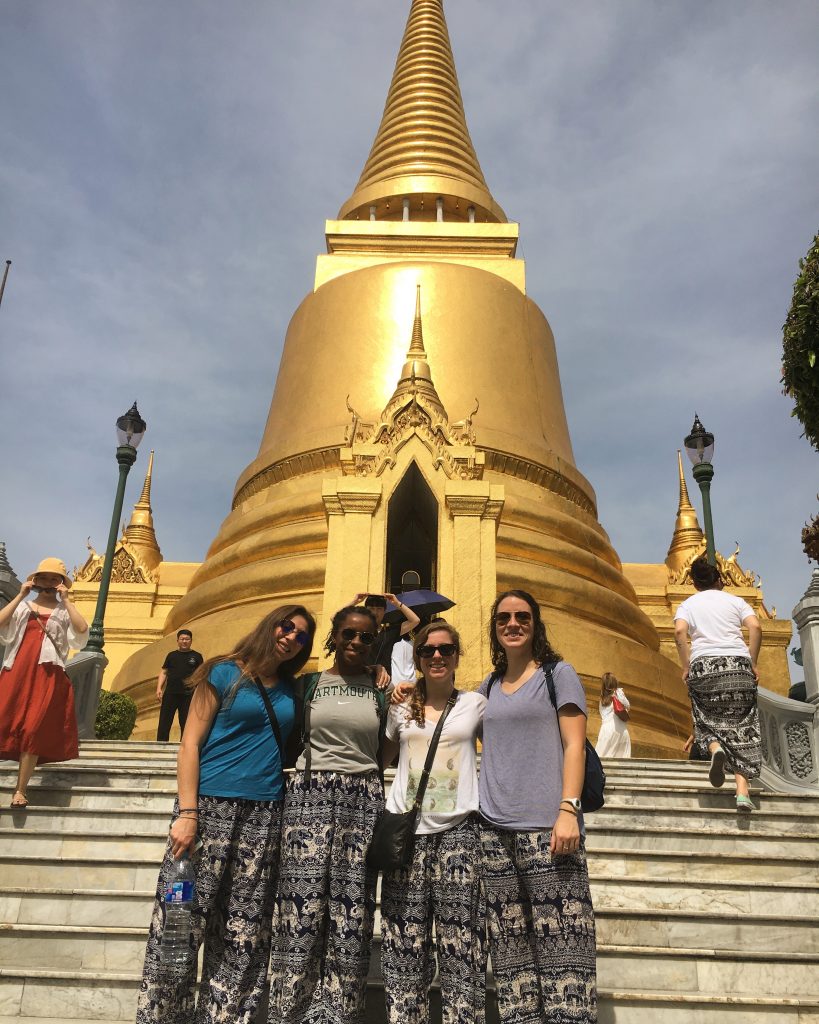 Our first stop in Thailand was Bangkok, the capital city. Here we are at the Grand Royale Palace, the city's biggest attraction. Conservative dress is required at all of the temples in Thailand, so we all invested in the same pair of elephant pants - a tourist staple in Thailand. When we arrived at the Grand Royal Palace, a friendly security guard gave us directions and said, "Welcome to Thailand, boyband," presumably because of our matching outfits.  
The following day we visited a floating market. The floating market in Bangkok is essentially a regular market except some vendors are stationed on boats. There were all sorts of things at the market, from food to souvenirs to clothing - there was even a live band playing while we roamed around.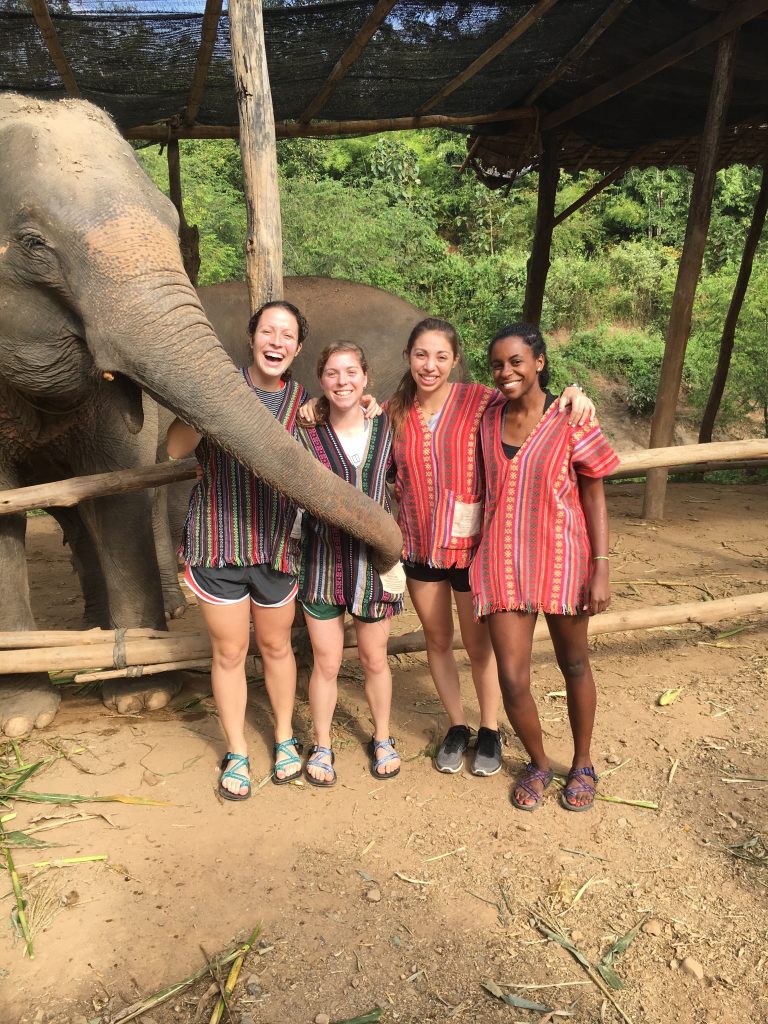 Our next leg of the trip was in Chiang Mai, a city in northern Thailand. The city was much much calmer than Bangkok and had significantly fewer people. During our visit to the elephant sanctuary, we got to feed the elephants bananas and do a mud bath with them. Above, a very eager elephant attempts to snatch bananas out of Arielle's pocket.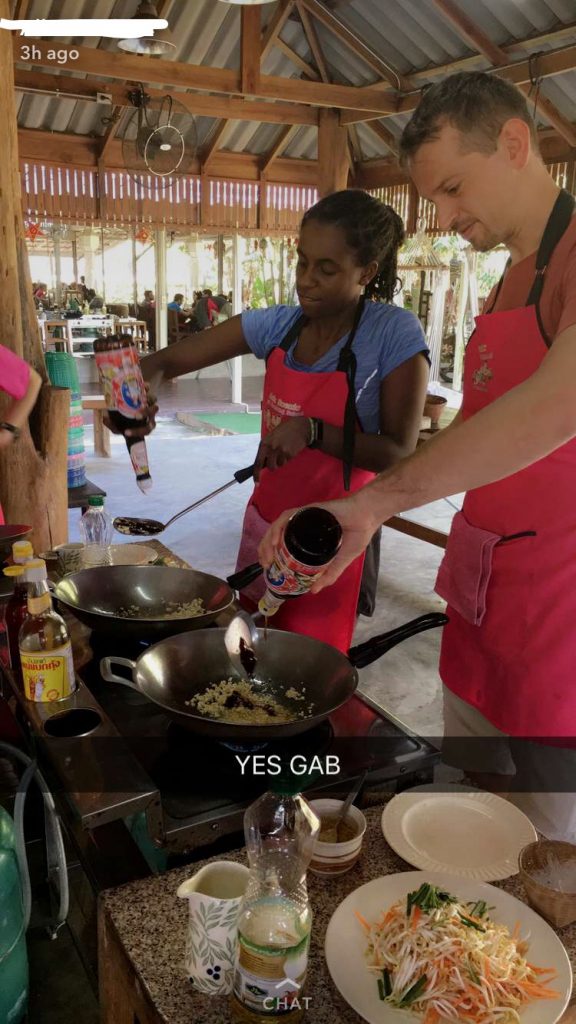 We arrived in Chiang Mai from Bangkok via overnight train at 7 am and headed immediately to a Thai cooking class. During the class, we made a four-course meal consisting of stir fry, curry, spring rolls and mango sticky rice for dessert. In this photo, this Italian man and I prepare spring rolls for the group. (His superior sautéing and food flipping skills won over the crowd.)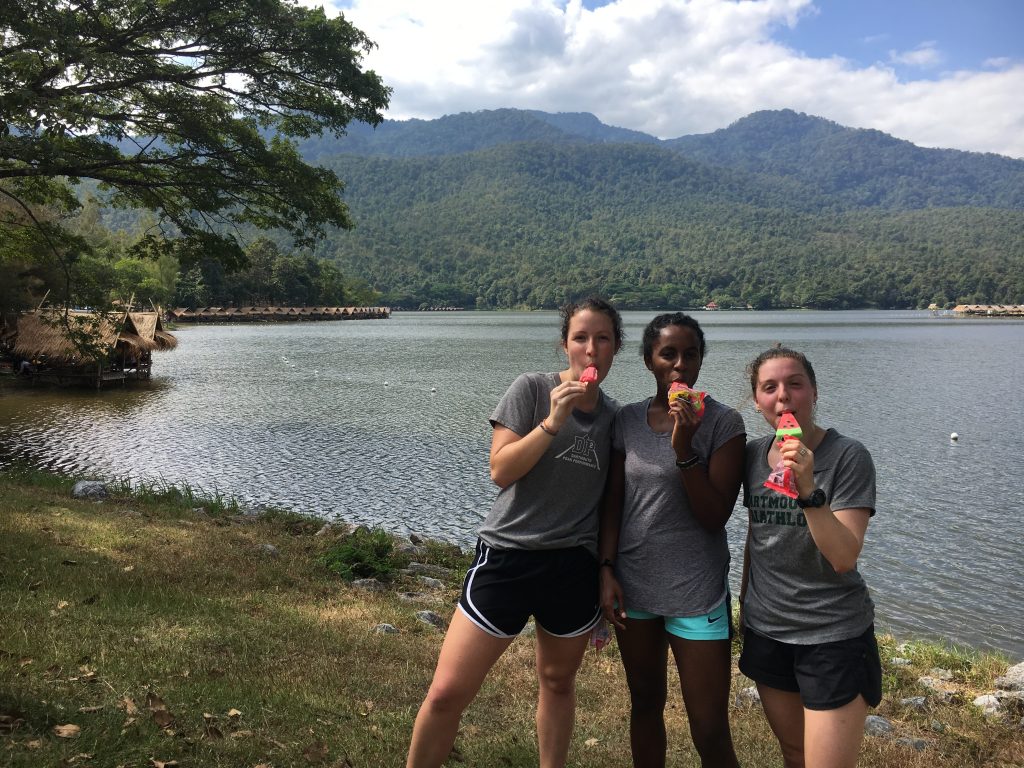 In Chiang Mai, we were feeling a little restless so we found a lake on TripAdvisor where we could go for a short run. About 2 miles into our run, I spotted a man with an ice cooler who was selling ice cream and popsicles. We ended our run there and bought watermelon popsicles for 12 baht (equivalent to about 40 cents)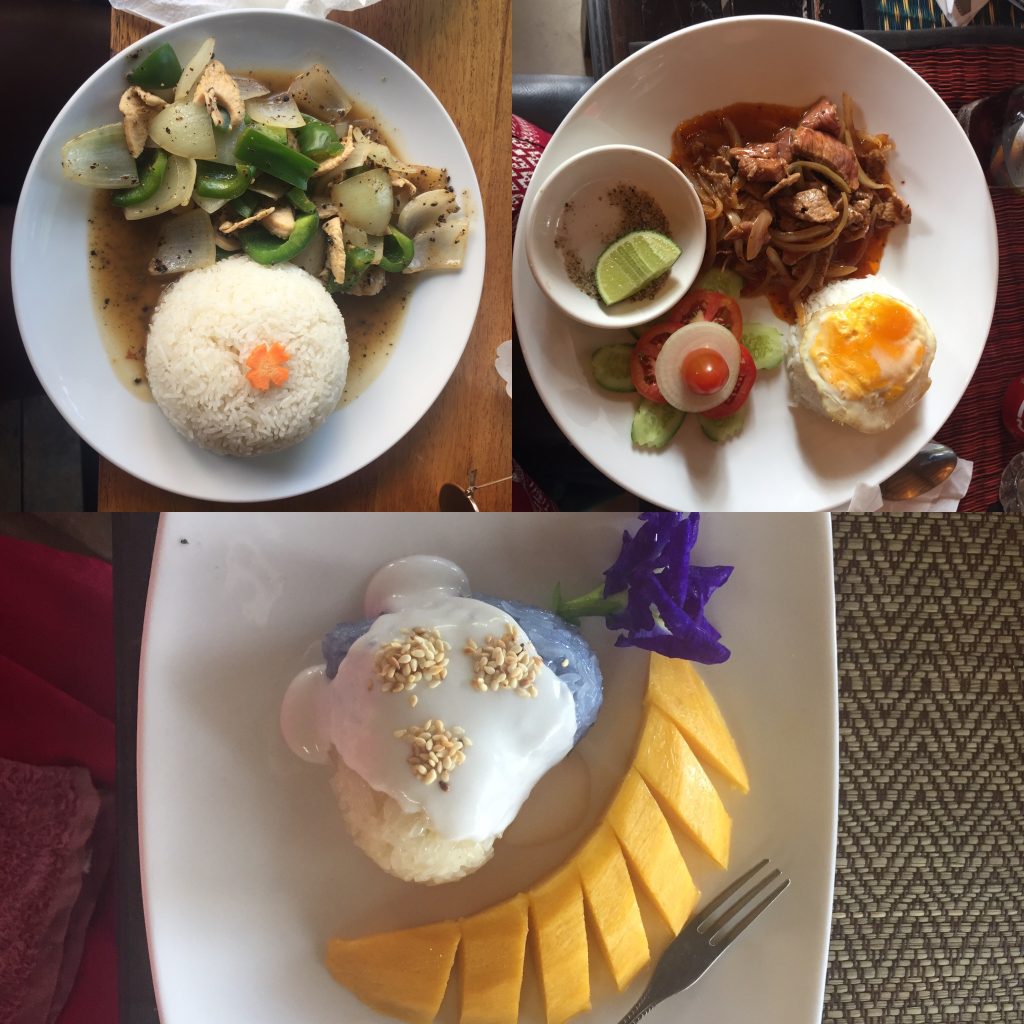 I'm normally a pretty conservative and picky eater, but I tried to expand my horizons this trip. Clockwise from the top left: chicken pepper stir fry, lok lac (a traditional Cambodian dish), and mango sticky rice. Almost every night for dinner in Thailand, we ordered mango sticky rice and kept a running list of which one was best. The best part about these dishes? They all cost less than $4.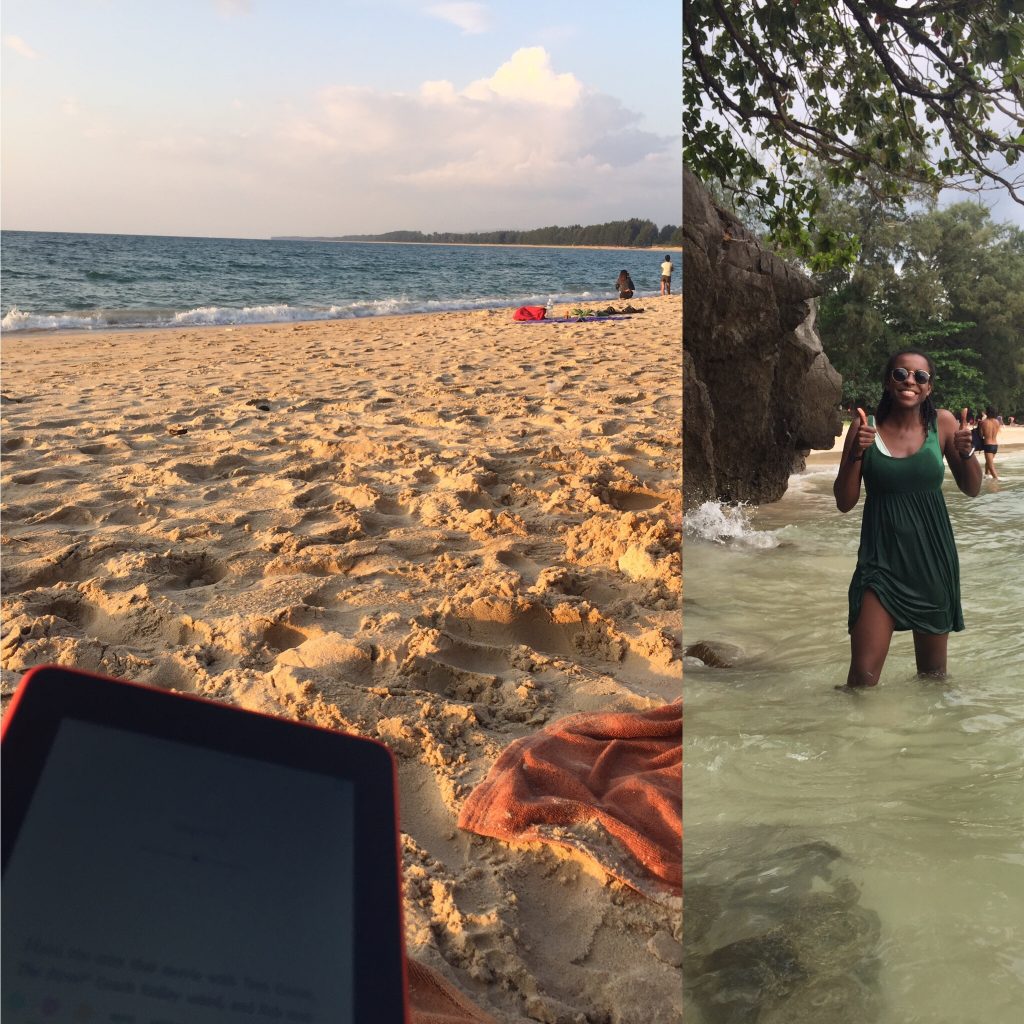 The Thai islands were our next stop. The first day we did an island-hopping tour where we had the opportunity to snorkel, see monkeys and observe beautiful scenery. On the left is my view from a beach in Phuket. All the downtime gave me the opportunity to read a book, The Short and Tragic Life of Robert Peace by Jeff Hobbs. On the right is a very soaked me at the beach. A friend and I went to explore rocks on the edge of the beach. We did not expect the waves to be so rough and I ended up getting knocked over and completely drenched.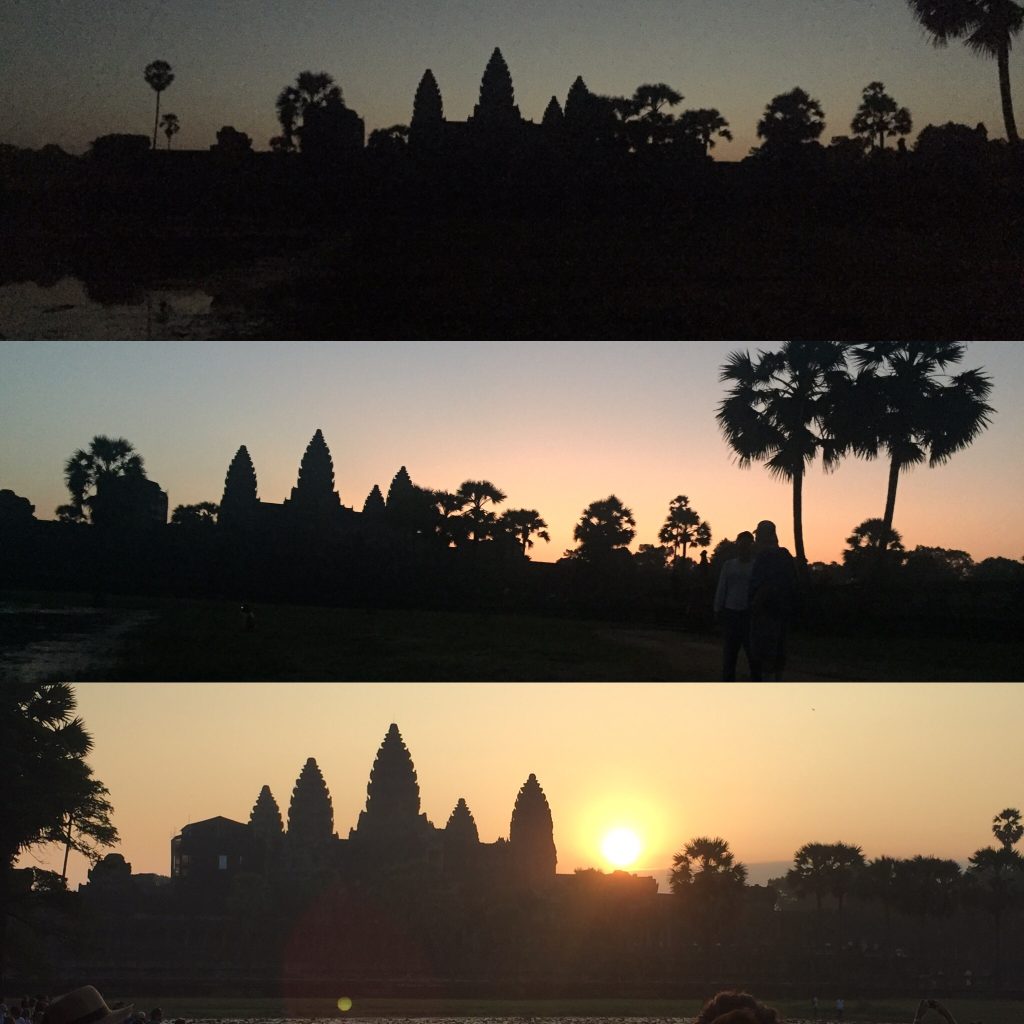 Our final destination was Siem Reap, Cambodia. The main draw to this destination is Angkor Wat, a massive temple built in the 12th century. We woke up at 4:30 a.m. to see the sunrise over the temple - it was an absolutely gorgeous view. What many people don't know is that Angkor Wat is one of many many temples in the national park complex, most of them equally as stunning. We toured all the temples from sunrise until about noon when we eventually ran out of steam.