« All Posts by this Blogger
Drafting our next class... of Fantasy Football players
And we're back! While the team here in McNutt Hall is excited to hit the road and ~officially~ begin the next admissions cycle, fall also means the beginning of Fantasy Football (and regular football as well, I'm guessing?). In between calling your high schools to schedule visits, we've been studying and making spreadsheets, or at least Ali and Jade have been.
Everyone prepares in different ways -- Director of Financial Aid focused with his favorite tunes (Alicia Keys and Bruno Mars) and some festive headwear.
Some of us were feeling hot already, like our Dean Lee Coffin, who came in first in the league last year -- Emma (in the pink hat) made prizes for the winner and loser from last year. 
Daniel, the last place team from the epic 2016 season, was prepping for his upcoming trip to Africa and wasn't able to accept his prizes in person -- luckily, Ali and Jade accepted them on his behalf.
Rumor has it Daniel will be giving an info session in his last place attire -- you'll have to stop by McNutt to see it for yourself, though.
As for me, today I've learned that there are lots of roles to play in a Fantasy Football League -- apparently someone needs to DJ the draft, and while I hadn't researched the best running backs or quarterbacks, I did have playlists ready to go. There was a lot of Shakira and Beyonce in our conference room today.
I've never played Fantasy Football, but luckily I have my colleague Angie, who has also never played before. Go sports go!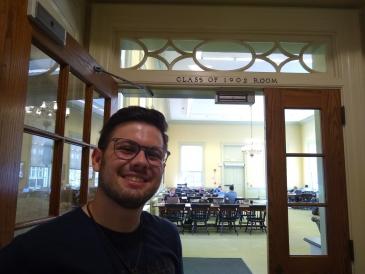 From an old room, a new face wants to introduce himself to you! What is he doing here? What is his thing? Does he even know? Find out this, and more, today!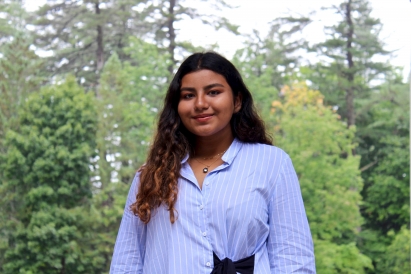 Ahlan, everyone! Welcome to my intro blog! 
My name is Lamees Kareem, and I am a '22 (freshman) from Jeddah, Saudi Arabia.

You're busy. Often from 7 am until long after the sun goes down, you're buzzing around your high school and community, and as admissions officers, we want to acknowledge your packed schedule.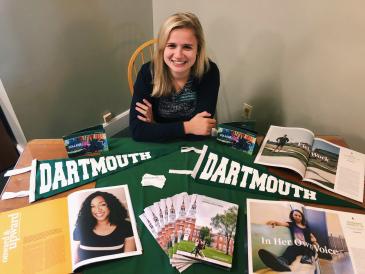 I hope you are enjoying fall and settling back into the rhythm of the school year! Like you, our admissions staff is head back to school all over the country, literally!
As my colleagues and I prepare to bid Hanover a fond farewell for a few months, I asked them what questions they love being asked when they're doing high school visits — or what they wish they were asked more.
Coming from California, the land of seemingly perpetual summer, I looked forward to experiencing fall, winter, and spring for the first times, but dismissed the idea that summer in New England would be a particularly revelatory experience.
Becoming a blogger for the admissions office was, like most aspects of my Dartmouth experience, something that I did not anticipate--maybe I'm starting to sound like a broken record but there have just been so many unexpected things these past few
I had committed the next four years of my life to Dartmouth despite having never even visited the state of New Hampshire.
I knew I wanted to go to medical school early on, so when I was looking at potential colleges, the ability for undergraduates to become involved with research was high on my list of requirements.